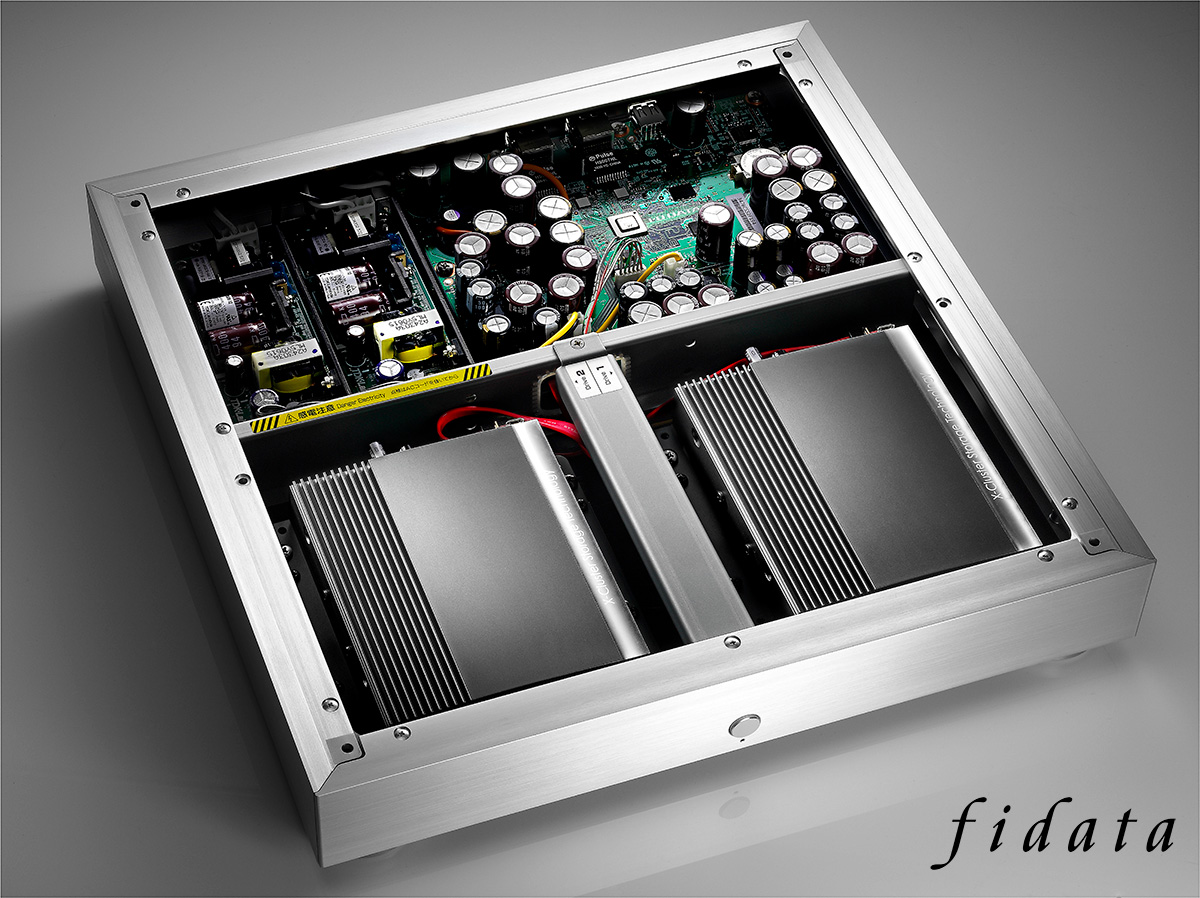 THE ULTIMATE IN AUDIO QUALITY, FROM A BRAND THAT LIVES UP TO THE MEANING OF ITS NAME: "RELIABILITY"
Today's high-resolution audio files deliver quality that approaches that of master recordings by incorporating an enormous amount of data.
With the debut of network audio, consumers quickly have become familiar with the immersive experience made possible by that level of quality.
Introducing fidata, a family of network audio components that lives up to the meaning of its name: "reliability."
A MUSICAL QUEST THAT BEGAN WITH AN MP3 PLAYER
It was 2000 when I-O DATA took its first steps into the world of music with the commercialization of an MP3 player. A quite substantial and long-running track record has followed, with products such as virtual surround speakers.
Since those first steps we've continued to manufacture products that take advantage of our strengths in digital, storage, networking, and other technologies, for example by developing a server compatible with the Digital Living Network Alliance (DLNA), which was launched to standardize network connections among audio visual and other devices, around 2005.
The next step involved distribution of high-resolution files, a format that came into its own with the advent of the Internet.
It was the dawn of a new age in which our technologies were to find application in the world of audio.
EMBRACING THE CHALLENGES OF A WORLD RULED BY SENSORY PERCEPTION WITH DIGITAL TECHNOLOGY
As you know, I-O DATA has a universally recognized track record in the development of network storage (NAS) for business and home use. Would this technology resonate in the world of high-resolution audio, let alone high-end audio? The development of the fidata HFAS1 was an experiment in embracing the challenges of the analog and sense-driven world of audio with digital technology.
GETTING BACK TO THE BASICS OF MANUFACTURING
Soon after it begun in 2012, the fidata project ran into a major obstacle. Individual circuits that should theoretically yield the same results generated different sound output depending on their component and circuit layouts. This was a big surprise for us. We had to get back to the basics of manufacturing to address the demands of this new world, which we found we could not approach by means of a digital approach alone. That is to say, we relied on a process of trial and error to make progress while accumulating expertise one step at a time.
THE HARD-WON FRUITS OF TRIAL AND ERROR
Chassis, materials, circuit boards, circuit patterns, components, power supplies, and I/O ports… we sought the ultimate in every aspect of the design and made improvements while combining these factors in a variety of ways based on audio theory. For each, we made one or more prototypes and listened carefully to the results. Then in October 2014, a prototype unit that we exhibited at the Audio and Home Theater Exhibition was received with high expectations. We spent the next year tuning the device before we eventually completed the fidata HFAS1.
A MILESTONE PRODUCT
The HFAS1 incorporates the full range of expertise that we were able to bring to bear in order to create the ideal sound. I would encourage you to listen to the sound it produces in a listening room. We are proud to offer this product, a network audio server that is ideally suited to high-resolution audio.
A CLEAR DIFFERENCE IN SENSORY EVALUATIONS OF OUTPUT THAT THEORETICALLY SHOULD HAVE SOUNDED THE SAME
During the tuning process, we carried out a dramatic reassessment of some aspects of the product's hardware. One such aspect was the power supply. Initially, the product had one power supply, but when we tested the hypothesis that the product needed independent power supplies for each circuit, we found a clear difference. Designs that should have produced the same results according to circuit theory exhibited major differences in sensory evaluations in which testers listened to actual prototypes. At every turn, we ran headlong into the difficulty of developing this type of audio product.
SEPARATE CIRCUIT BOARDS AND A FOCUS ON CAPACITOR LAYOUT
Even as we added a second power supply, we were working to isolate the circuit boards. Network audio servers consist of two circuits—the system circuit and the hard disk (storage) drive circuit—and these should be isolated from the standpoint of minimizing noise. By adding an insulating layer between their circuit boards, we were able to completely separate them. We also considered the locations of the screws that hold the boards in place in order to minimize vibration transmitted from outside the unit and drive vibration from the hard disks. We used a thick M4 installation hub and high-grade components such as Nichicon MUSE electrolytic capacitors, determining the specific component combinations and layouts by making numerous prototypes and then subjecting them to listening tests.
4.0 mm THICK TOP COVER THAT DELIVERS A DIFFERENCE FOR MID & HIGH FREQUENCY SOUNDS
We also spent a lot of effort determining the thickness of the aluminium top cover. We made prototypes of a variety of thicknesses and ultimately decided to use a 4.0 mm thick cover because that thickness facilitated excellent medium and high notes with a good balance of bass. Establishing a hypothesis based on theory, building a prototype, and then checking with our ears—the HFAS1 was created through initiatives like this that brooked no compromise. Our pride as engineers is built right into this product.
HIGH RIGIDITY AND SATISFACTION OF OWNERSHIP
We sought to give the unit a highly rigid construction to limit vibration and heft that would give owners a sense of fulfilment when they held the HFAS1.
Our goal was to create a design that delivers satisfaction in terms of both functionality and satisfaction of ownership.
Most audio visual components use lots of sheet metal and plastic, but this project began with a desire to draw a clear distinction between this product and those components.
STRENGTH AND BEAUTY, WITH A JOINING TECHNIQUE USED IN JAPANESE DRAWERS
For example, we used a traditional joining technique known as sakidome that's used in Japanese furniture in order to connect the front and side panels of the chassis as well as the side and rear panels. Utilized to join two panels of the same thickness that have been cut to a 45°gle, this method creates a beautiful look while increasing the strength of the joint. When seen from above, he chassis appears to have been constructed from metal panels of the same thickness at all four corners, resulting in a design that imparts to the user a sense of the quality of the materials.
SURFACE FINISH WHOSE TEXTURE RESEMBLES JAPANESE PAPER
We used vibration polishing, which creates non-directional helical polishing marks, to finish the surface of the 4.0 mm thick top cover. The matte effect has a certain warmth and gives the HFAS1 a look that perfectly evokes the texture of Japanese paper. Diamond-cut beveling along the edges of the top surface of the top cover create a glittering, lustrous accent that contrasts with the matte surface.
AN AUSTERE DESIGN BORN OF A SINGLE-MINDED FOCUS ON FUNCTIONALITY
Reflecting the desire of the engineer responsible for planning the product to eliminate LCD panels and LED lamps, which have the potential to serve as sources of noise, we included only a push-type power button and an LED indicator to indicate the unit's status on the front panel. Our aggressive focus on functionality, in the form of eliminating noise, and our Japanese taste came to fruition in the HFAS1's extremely austere design.
OFFERING THE CONVENIENCE OF DIGITAL WITH THE FEEL OF AN ANALOG DEVICE
Ordinarily, network audio servers run 24 hours a day, 365 days a year so that content purchased away from home using a smartphone or other device can be downloaded immediately. However, the natural approach of most audio enthusiasts is to turn on audio devices only while they're listening to music. To accommodate that style of use, we were careful to deliver ease of use on par with that of audio devices, for example in the form of functionality for starting to download and back up newly purchased content as soon as the device is turned on. In this way, the HFAS1 offers the convenience of digital with the feel of an analog device. It was our goal to design this kind of product.